Indefinite Leave to Remain 
The requirements for an ILR application consist of continuous residence, KOLL requirements and grounds of suitability. Contact our immigration team for a no-obligation consultation and assessment for your indefinite leave to remain application.
​
What is Indefinite Leave to Remain in the UK?
Indefinite Leave to Remain (ILR) is an immigration status given to those permanently settled in the UK. With ILR, you no longer have any conditions on your stay and can work, study or engage in business without restrictions and apply for benefits if you're eligible.
ILR is a prelude to British Citizenship. If you are married to a British national, you can apply for Naturalisation immediately after acquiring ILR status. It is possible to lose your permanent resident status due to prolonged absence from the UK.
ILR Routes
Depending on the leave you have been granted, you can usually apply for ILR after the residential qualifying period.
We will focus mainly on the 5-year ILR requirements. There are several routes to ILR, such as:
Work Visa ILR
Generally, you can qualify for ILR with one of the following visa categories or routes:
International Sportsperson or T2 Sportsperson
Representative of an overseas business
Global Talent or Tier 1 (Exceptional Talent)
Turkish Worker or Businessperson vA privatevate servant in a diplomatic household with an International Agreement isa, or a domestic worker
T5 (Temporary Worker)
Nationality based ILR
Family Visa ILR
Parent visa
Adult dependent relative visa
Apply for UK Indefinite Leave to Remain
You do not automatically qualify for ILR on completion of your continuous period of lawful residence in the UK. You must submit an application for ILR to Home Office UKVI for consideration. You will need to prove the following:
Continuous lawful residence in the UK for the required qualifying period of 5 years
You were not absent from the UK for a period exceeding 180 days per year. It is advisable to keep a detailed record of any absences from the UK over your qualifying period
Your knowledge of Life in the UK by passing the Life in the UK Test
You speak English to the required level
You do not fall under the General Grounds for Refusal – for example, addressing if you have any criminal convictions or breaches of your immigration status.
ILR Continuous Residence Requirement
Under the Immigration Rules, the continuous residence requirement requires applicants to have lived in the UK lawfully with the relevant permission and prove that they have not been absent from the UK unless for permitted reasons.
A period of absence is any time spent away from the UK while you are still in your qualifying residence period. You may not leave the country for more than 180 days in a calendar year. You will be required to present proof that explains your absences.
The Home Office UKVI will assess whether your continuous and lawful residence has been broken during the 5-year qualifying period, whether you have been absent for more than the allowed period and if any absences are for permitted reasons.
The Home Office may sometimes consider absences for severe or compelling reasons. Serious or compelling reasons will vary but can include:
serious illness of the applicant or a close relative
a conflict
a natural disaster, for example, a volcanic eruption or tsunami.
The applicant must provide evidence in the form of a letter which sets out the reason for the absence with documents of support. For example:
medical certificates
birth or death certificates
evidence of disruption to travel arrangements.
If the absences are connected to other employment outside the UK, which demonstrates that UK employment is secondary, these are not permitted absences, and the continuous period requirement is broken.
Absences due to employment, whether related to the applicant's job in the UK or not, count towards the 180-day maximum each year.
Work Visa ILR Salary Requirement
ILR applicants may need to show they meet the relevant minimum income requirement, depending on what type of leave they currently hold.
For example, Skilled Worker visa holders who wish to acquire indefinite leave to remain in the UK are required to meet the minimum salary requirement by earning the higher of either:
£25,600 per year
£10.10 per hour
the 'going rate' for the role
In addition, they must satisfy the Home Office UKVI that they are required for their current employment for the foreseeable future.
Ancestry Visa applicants must provide proof of their employment or self-employment activities during their 5-years residence in the UK. 
Family Visa ILR Minimum Income Requirement
You must demonstrate that you meet the minimum income requirement. In addition, you and your partner must usually have a combined income of at least £18,600 yearly.
You must prove you have extra money if you have children who are not British or Irish citizens, do not have pre-settled status, or are not permanently settled in the UK. If you need to provide extra money for your children, you'll need to earn an extra £3,800 a year for your first child and £2,400 a year for each child you have after your first child.
You can use income from employment, non-employment income, or savings to demonstrate the minimum income requirement. To illustrate the level of financial requirement with cash savings; you or your partner must have held at least £46,500 for a minimum of six months.
English Language Requirement
You can prove your knowledge of the English language for ILR requirements by
Having an English qualification at B1 CEFR level
Having a degree taught or researched in English
Being a national of an English-speaking country:

Antigua and Barbuda
Australia
The Bahamas
Barbados
Canada
Grenada
Jamaica
New Zealand
Ireland
St Kitts and Nevis
St Lucia
St Vincent and the Grenadines
Trinidad and Tobago
USA
The requirement of English Language knowledge is exempt in cases when applicants are aged 65 or over or are unable to due to disabilities or are a citizen of countries they are exempt from.
The Life in the UK Test
Between the ages of 18 and 65, you must pass the Life in the UK test.
The Life in the UK test is a computer-based test made up of 24 multiple-choice questions covering British values, history, traditions and everyday Life in the UK. It costs £50 to take the test, and there are over 30 accredited centres where the test can be taken.
There is a time limit of 45 minutes to complete the test, and you will need to get 18 correct questions out of 24 (75%) to pass the test. You will get a Pass Notification Letter if you successfully pass your test.
There is a fee to take the test, and you must pay the fee for every attempt of the test you make, although you may take it as many times as you need to.
Documents for ILR Application
The documents you must submit will vary based on your visa category. In general, the documents you need to submit for a valid ILR application include
The correctly filled current version of the form. Most ILR application forms are now online
Payment of specified fees by one of the accepted payment methods
Valid passport or a national identity card or travel document for yourself and any dependents
Any old passport valid during your time in the UK
Birth or adoption certificates
A history of your immigration
Documents which account for any time spent outside of the UK during the qualifying period
Financial information, such as personal bank statements
The pass certificate of Life in the UK test
Pass certificate to prove the required level of English if not exempt
Photographs of yourself and any dependents
A police registration certificate if you were required to register with the police when you arrive in the UK
Other supporting evidence is based on your ILR route. Such as financial documents such as evidence of employment proof of meeting the minimum income requirement.
ILR Fees
As of 6 April 2022, the Home Office ILR Application fee is £2,404 per applicant.
It also costs £19.20 to register biometric information, which is an essential part of the ILR application process. Other costs may include The Life in the UK Test and English Certificate.
How to apply for Indefinite Leave to Remain
Applications for Indefinite Leave are made using SET (O) or SET (M) forms online. Once you have submitted your online form, you can book an appointment at a UKVCAS centre, where you will submit your biometric information. You may also be invited to use the IDV app to verify your identity. If you submit your application through the app, you will not be required to attend a biometric appointment. Your supporting documents can also be presented during this appointment if you have not submitted them already online addition, you may be invited to an interview if the Home Office UKVI requires further information about you and your application.
ILR Processing Time
Decision times again vary according to the visa categories and the personal circumstances of your application. Applications that require further enquiries usually take longer to decide than the general timeline. UKVI also publishes processing times for indefinite leave to remain applications on their website, which can give you a general idea of how long your application might take.
General processing time is up to 6 months. Most ILR applications are decided in 8 weeks. It is possible to expedite specific ILR applications using super-priority service, which costs an additional £800. With super-priority, your ILR application will usually be decided in 24 hours.
ILR for dependants
You may also submit an ILR application for your dependent family members, such as your husband, partner, and children. Dependents can include the following
Partner – spouse, civil partner or unmarried partners
Children that are younger than 18
Children who are above 18 have not yet formed an independent life.
British Citizenship after ILR
You may be eligible to apply for British Citizenship 1 year after being granted Indefinite Leave to Remain.
If you are married to a British national, you may apply for citizenship sooner. However, whether British citizenship is suitable will depend on your circumstances, as there a quite a few differences between ILR and Citizenship.
How can we help
At WF, we are highly experienced in UK immigration. One of our expert immigration specialists can assess your eligibility and circumstances and ensure that you fulfil the Indefinite Leave to Remain requirements. Call us to discuss your application at 02087575751 or use our contact form.
Frequently asked questions
How long is Indefinite Leave to Remain valid for?
There is no time limit on Indefinite Leave to Remain in the UK. However, you may lose ILR status if you spend more than two years outside the UK.
When is the earliest date you can apply for ILR?
You can apply for ILR within 28 days of the expiration of your leave or the end of the 60-month qualifying residential peri However, you must ensure that you apply you should apply before the end of your permitted stay in the UK.
Why choose Whytecroft Ford?
Free 15-Minute Assessment
We offer a 15 minutes free immigration advice UK session to assess your eligibility for an immigration application. We can then advise you on the best course of action.
No Hidden Charges & Fixed Fees
We will clearly outline all fees associated with your application so that you can make an informed decision. There are no surprises during the application process.
Highly Rated Services
Whytecroft Ford has a long-standing reputation as an Excellent immigration firm. Our Immigration services are highly rated on Trustpilot and Google. 
OISC Approved
We are regulated to a high service standard by the Office of the Immigration Services Commissioner, UK, assuring our clients that we offer a quality service.
Secure Remote Services
We use secure technology to process your UK Immigration Application. Our remote services mean you can easily access our team from the comfort of your own home.
Experienced Professionals
Our expert immigration advisors have many years of experience and have successfully assisted individuals and families to migrate and live in the UK.
What our clients are saying about us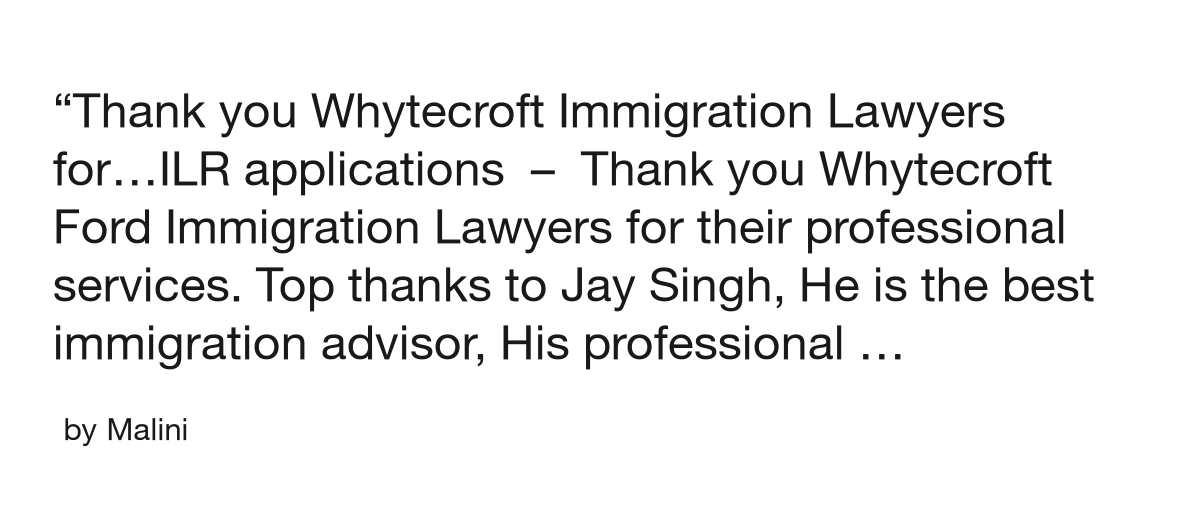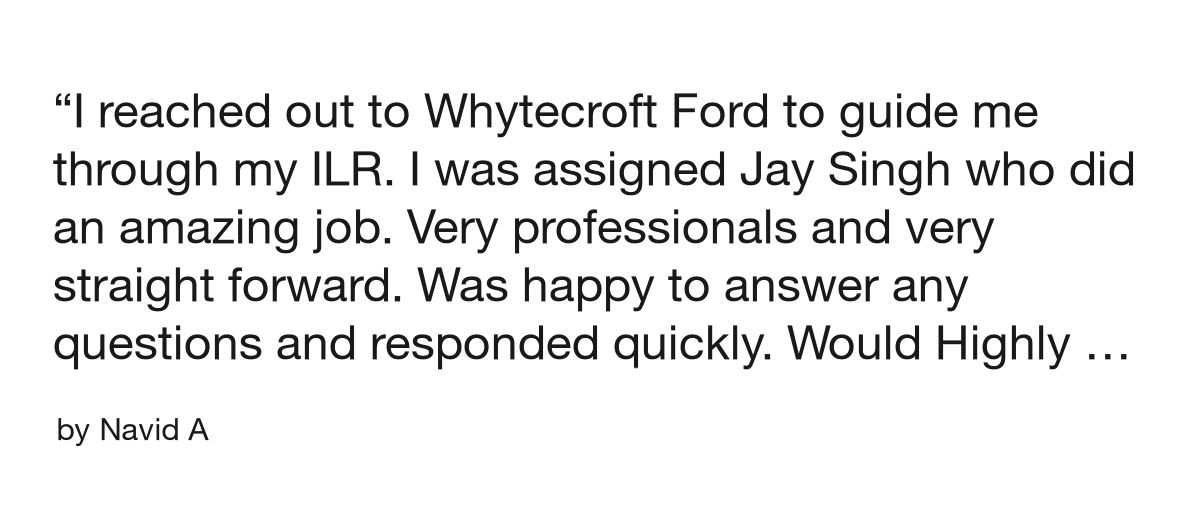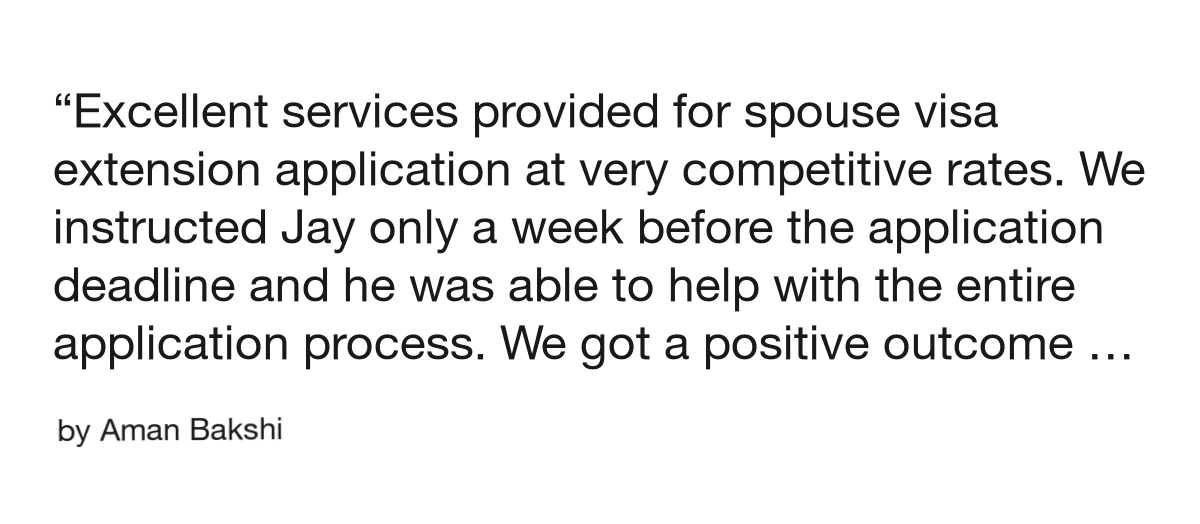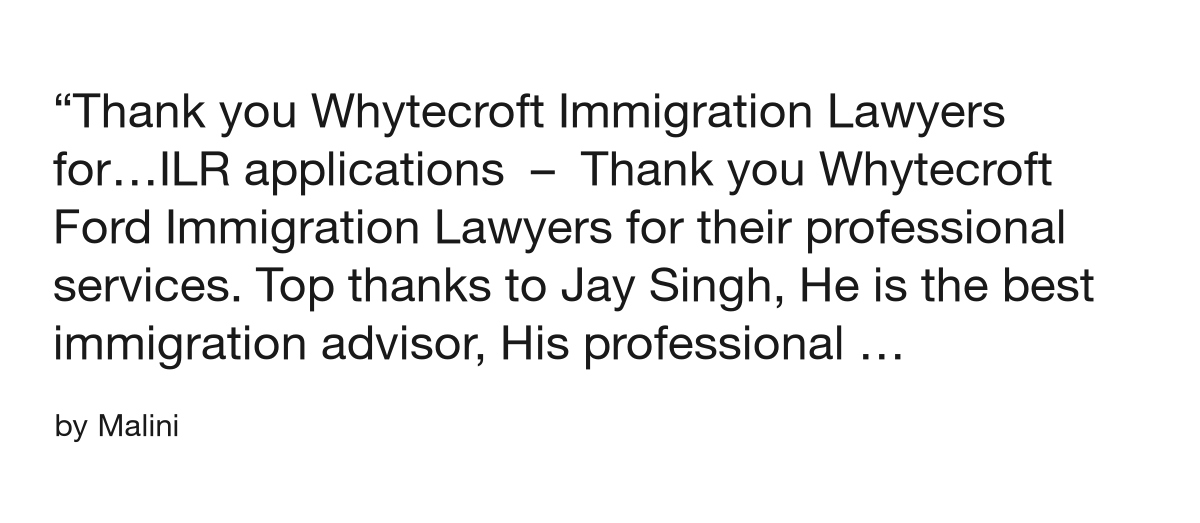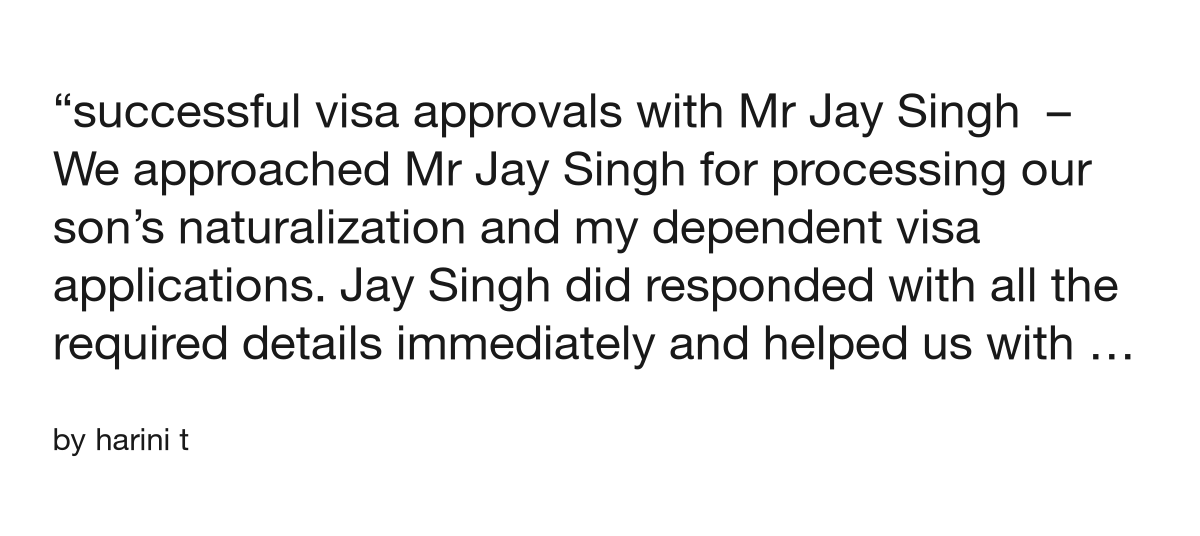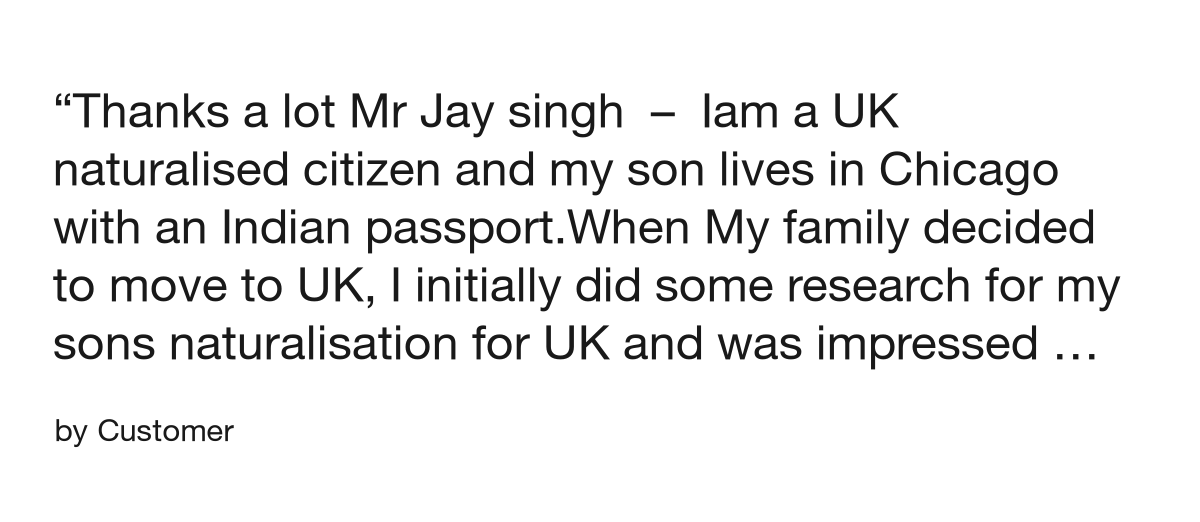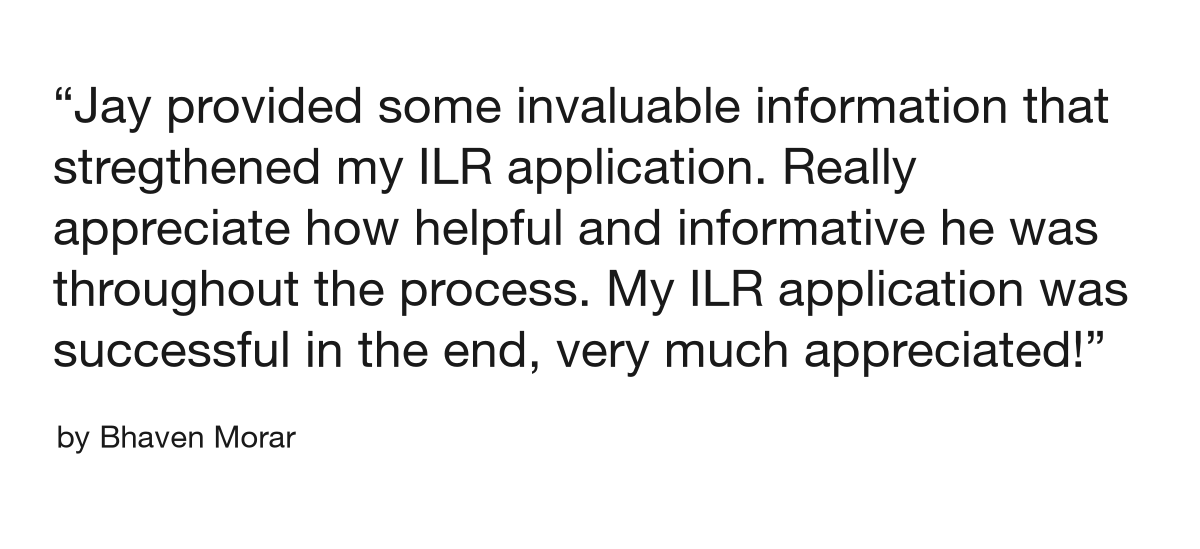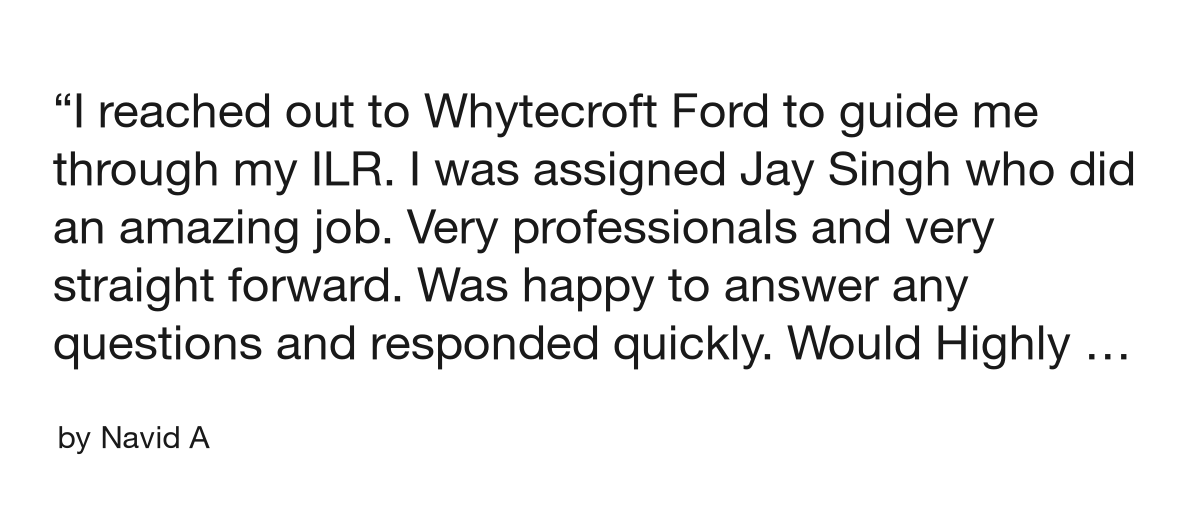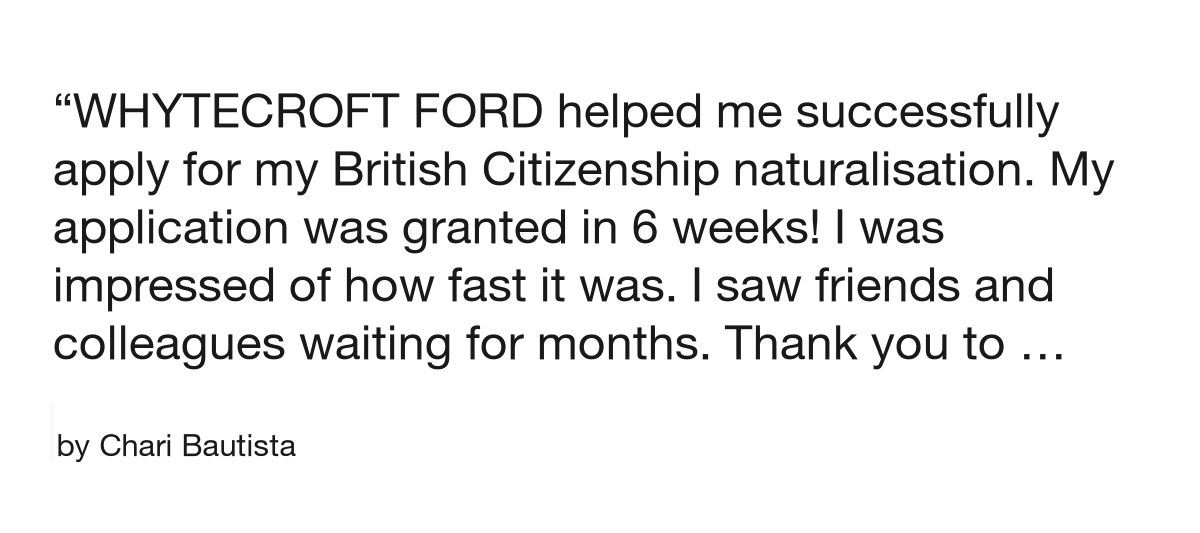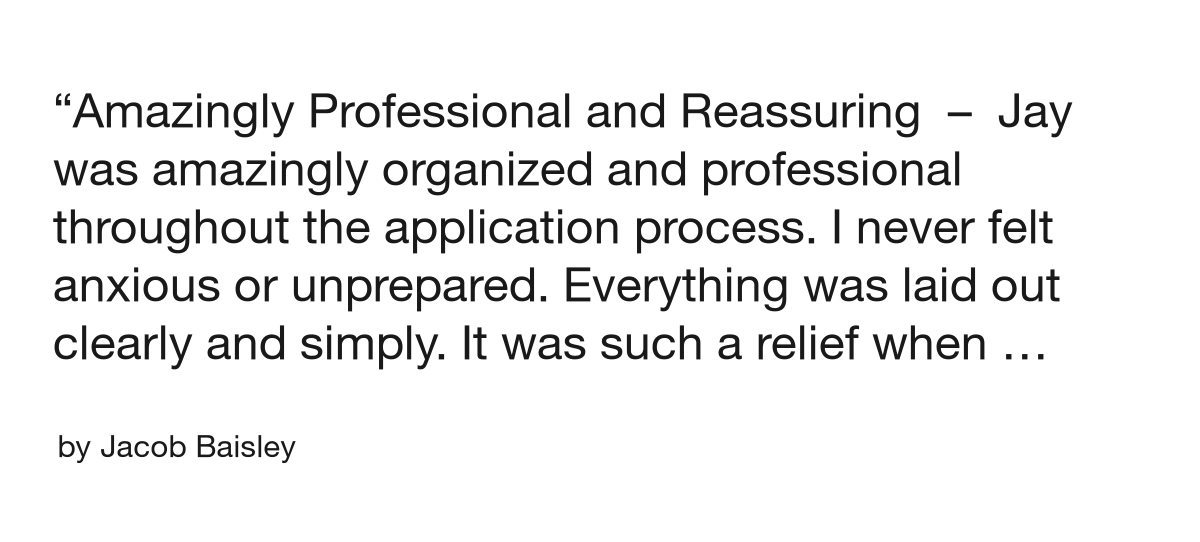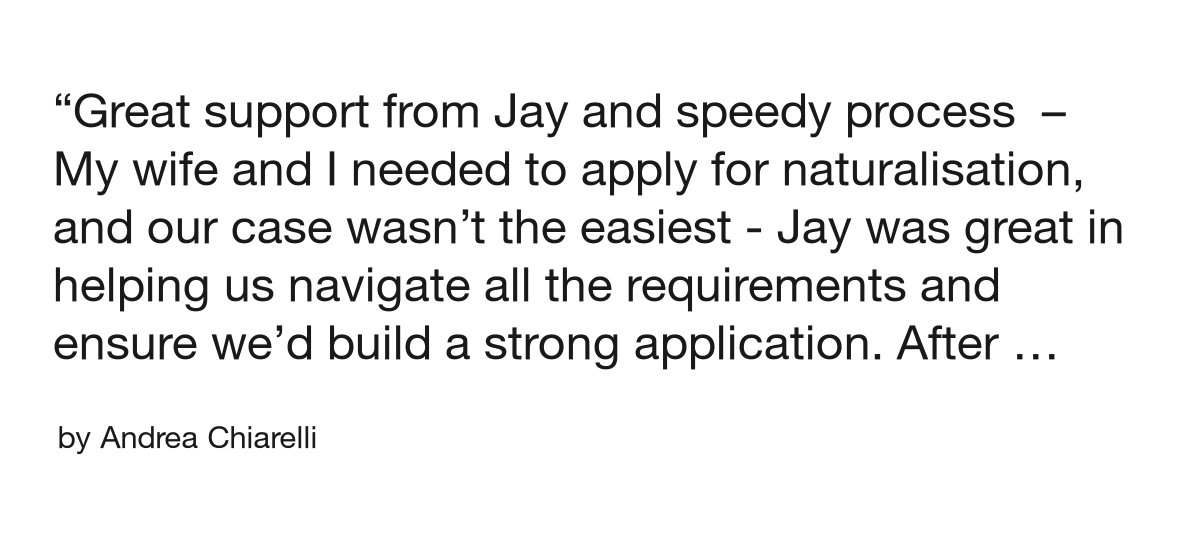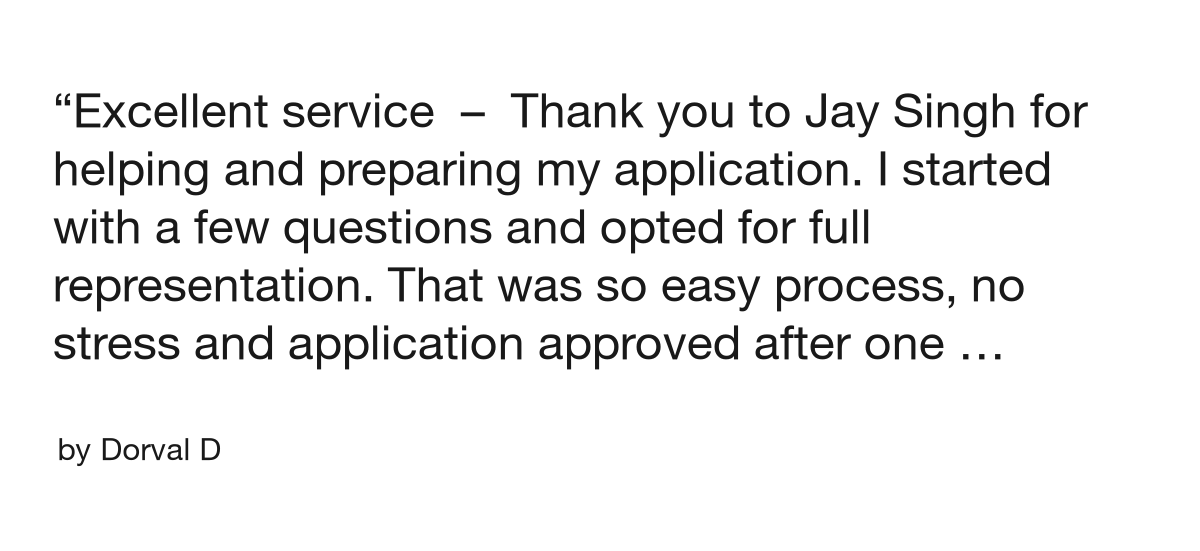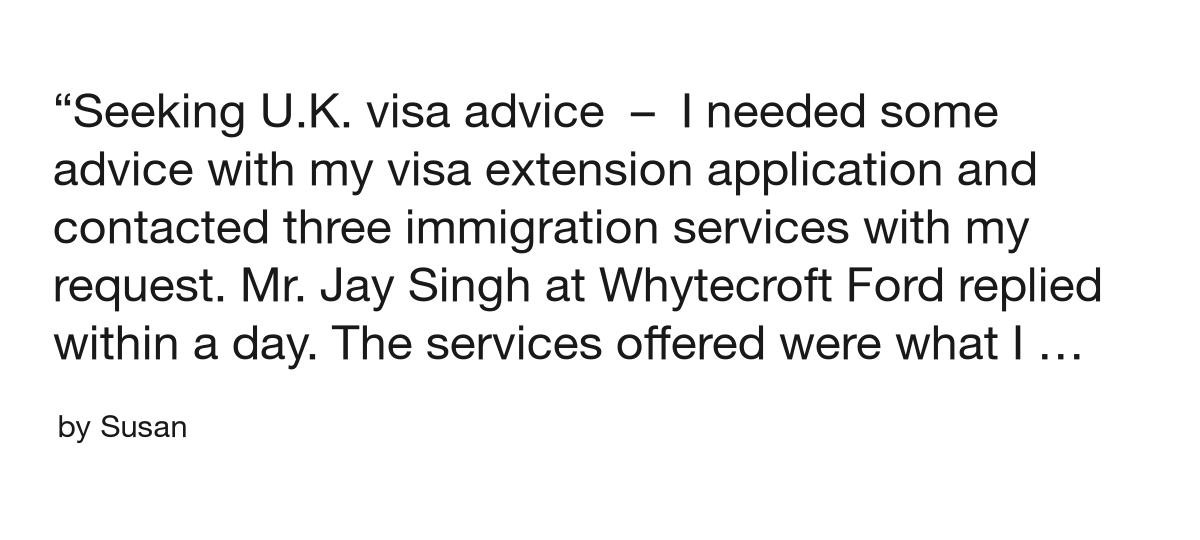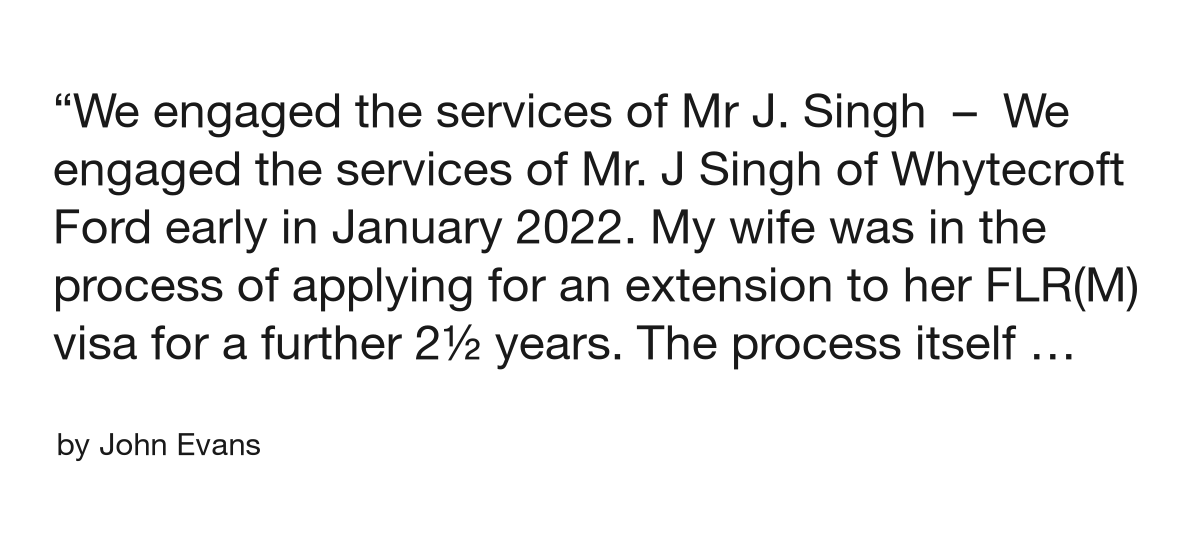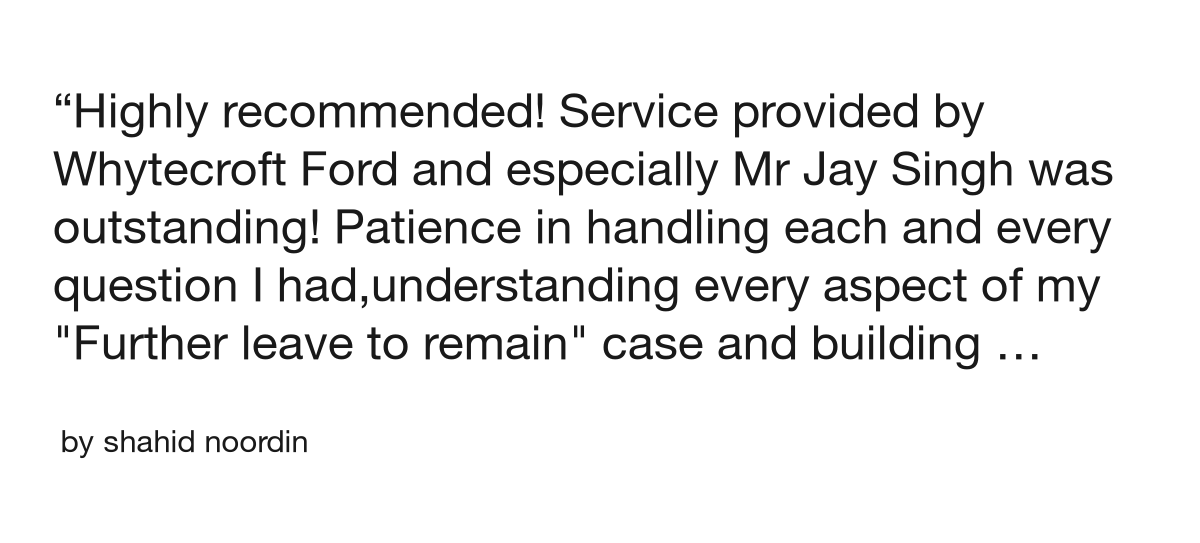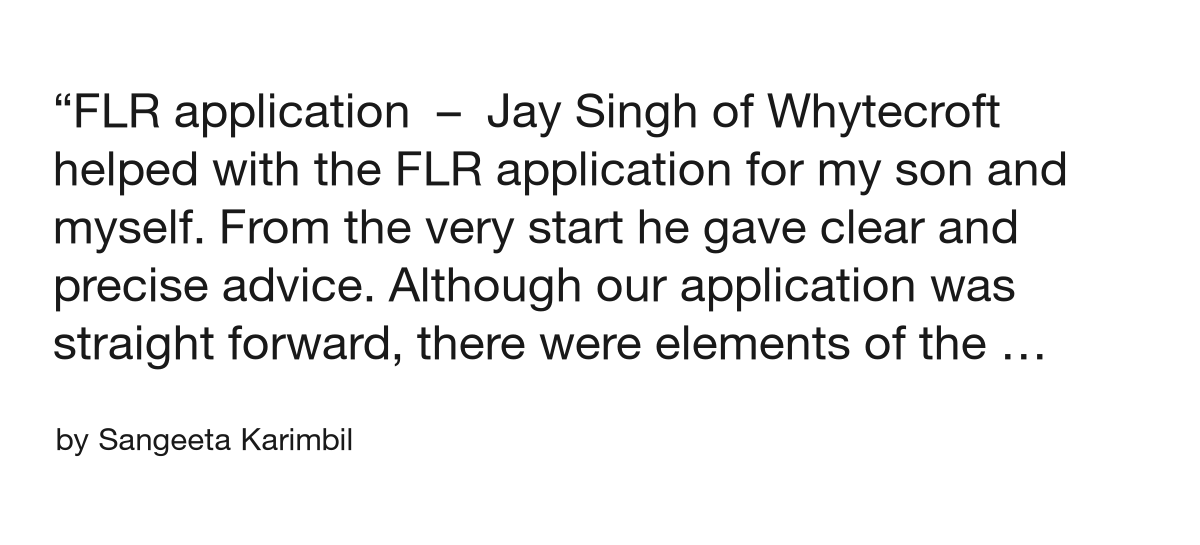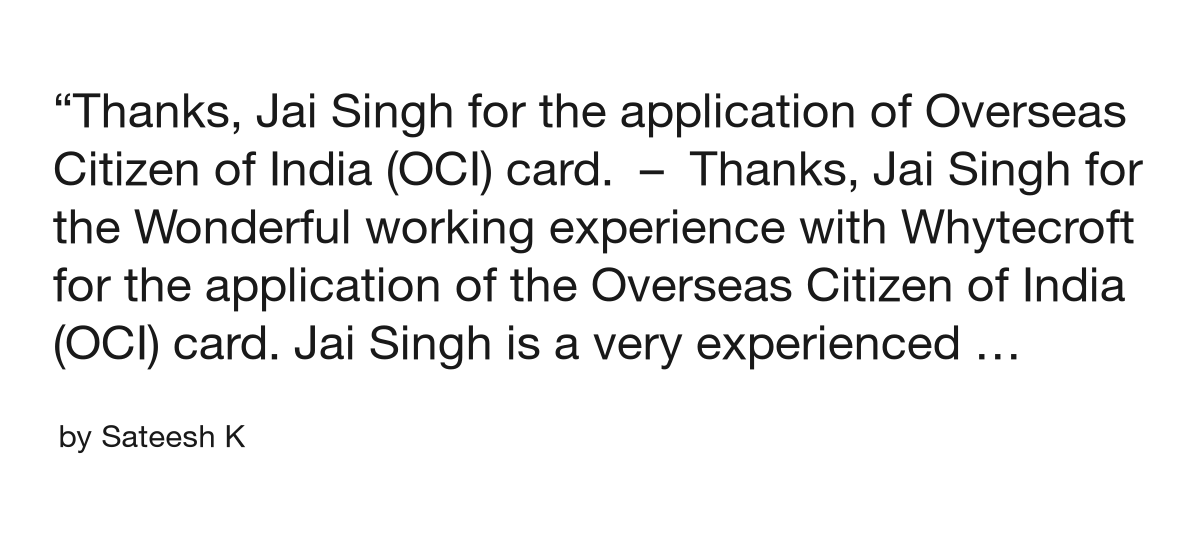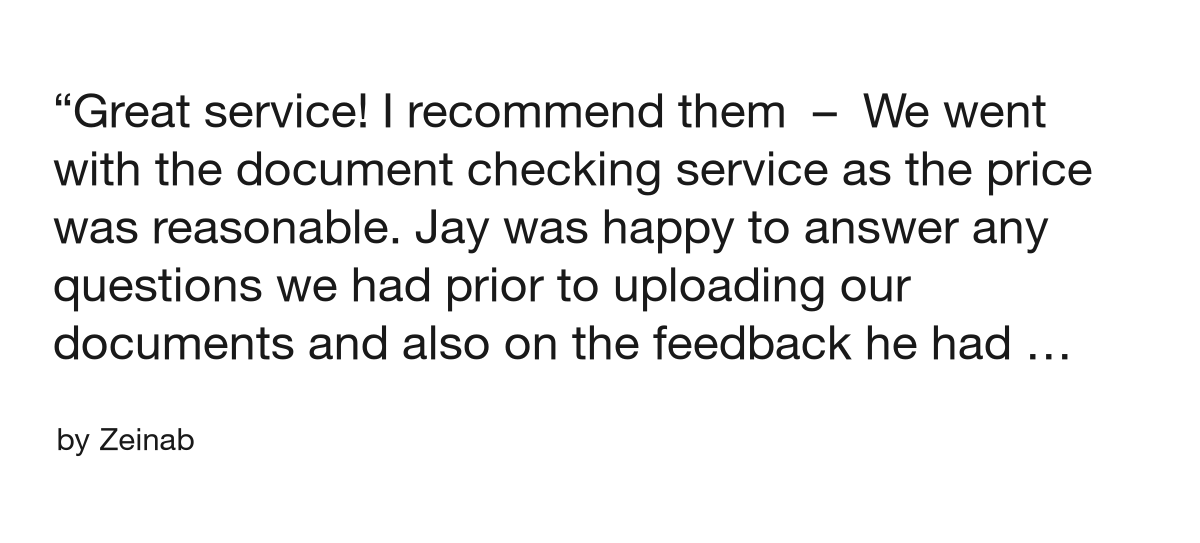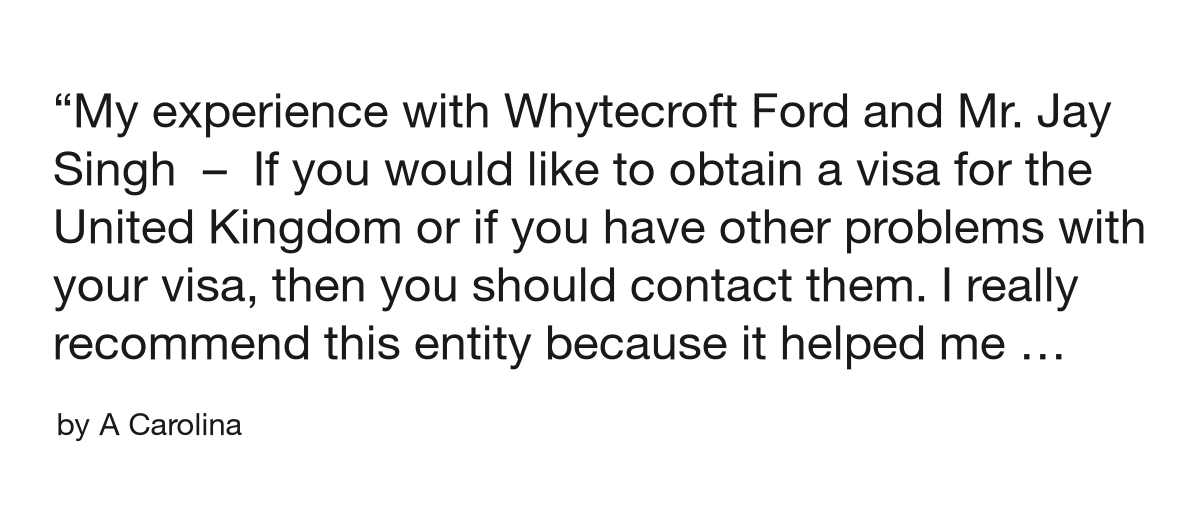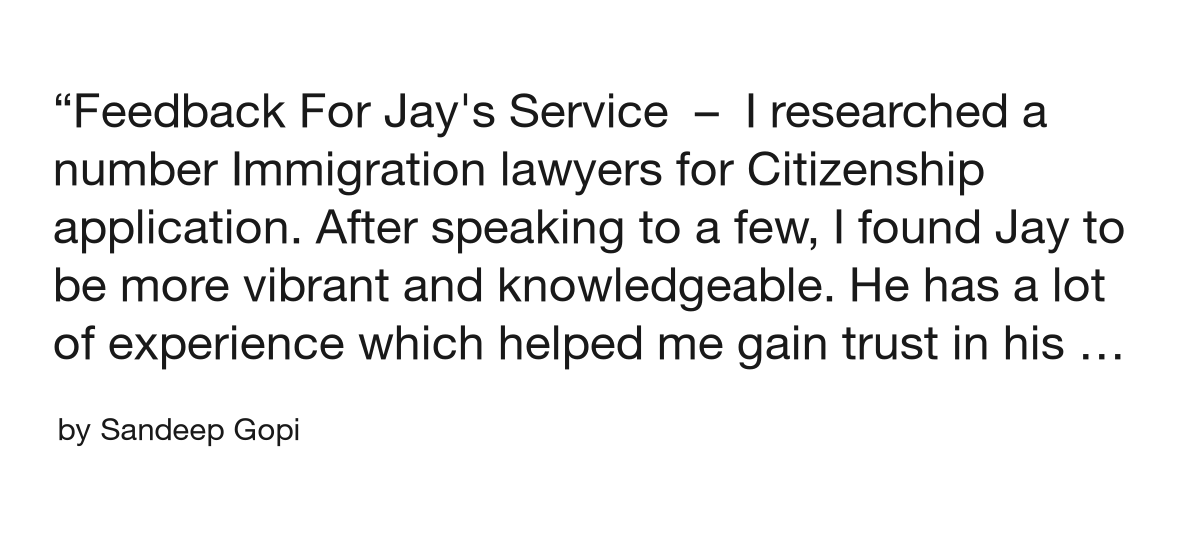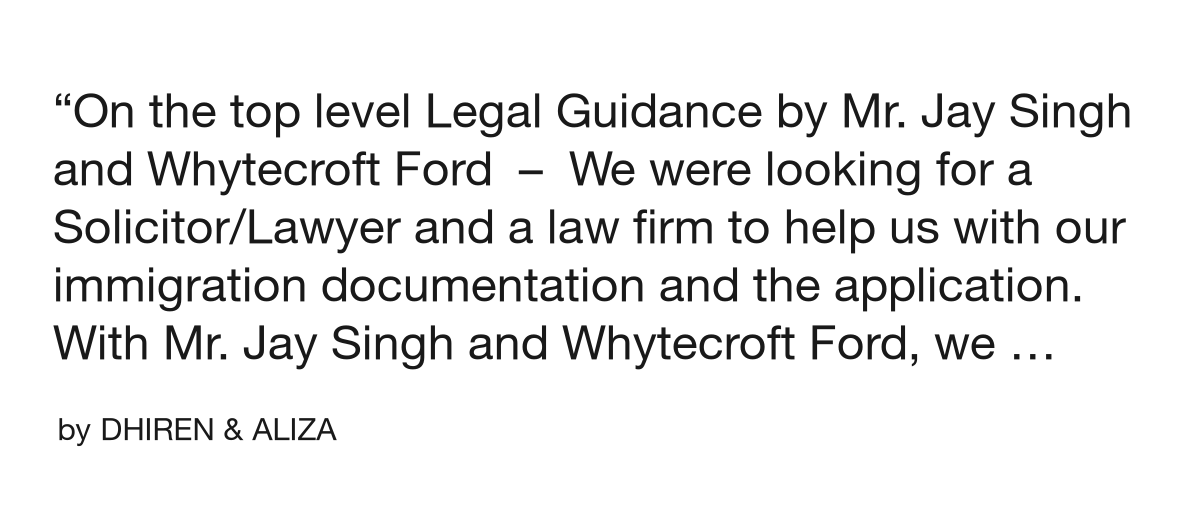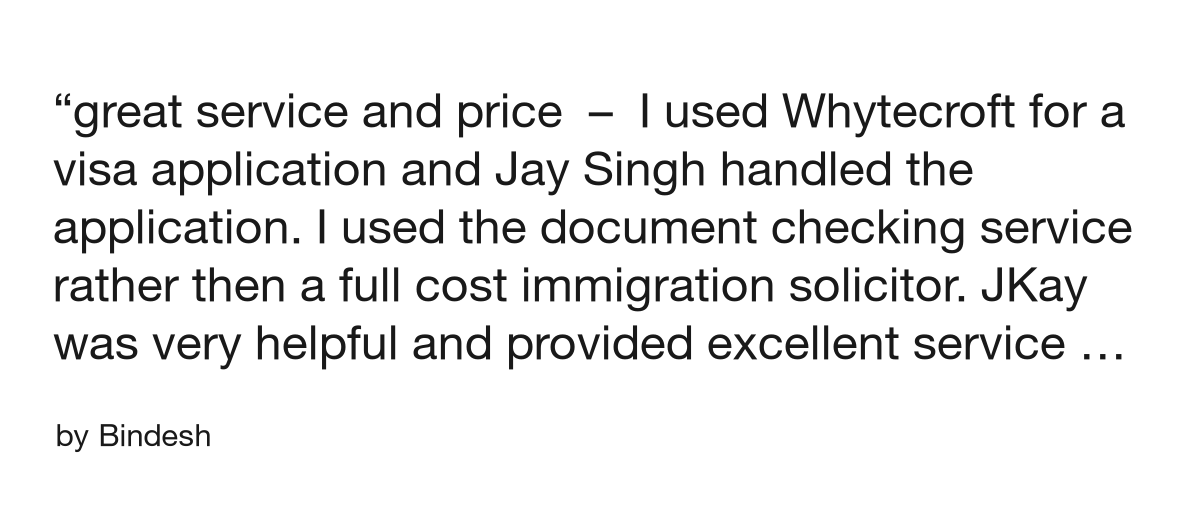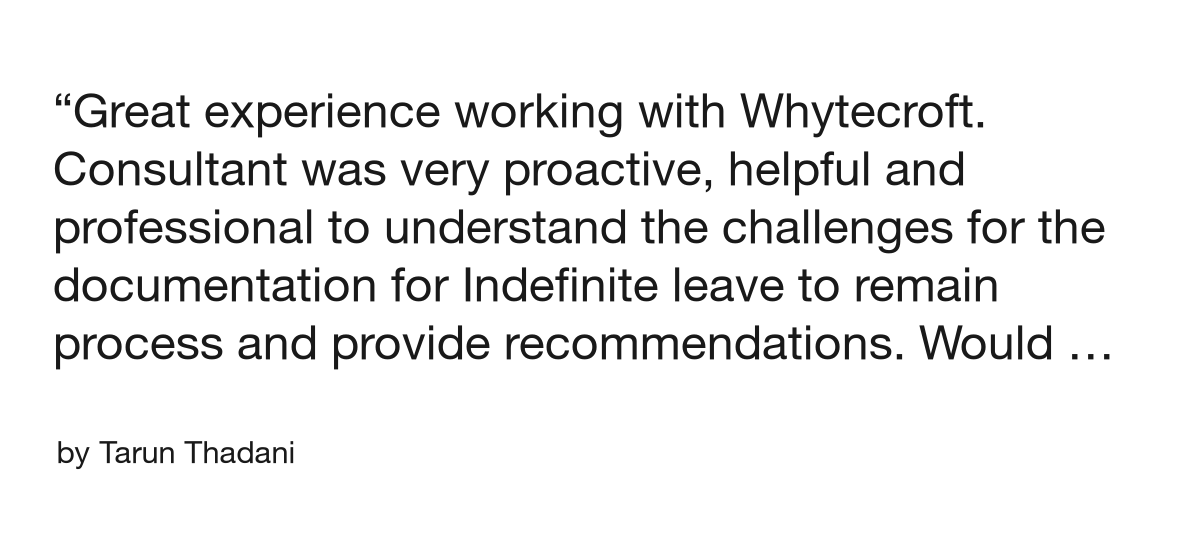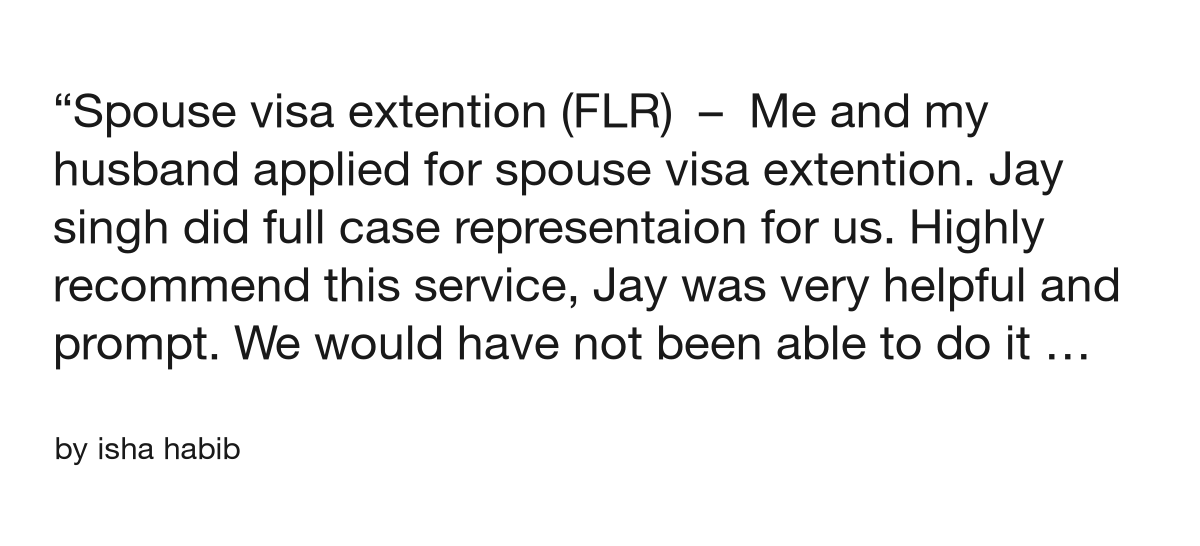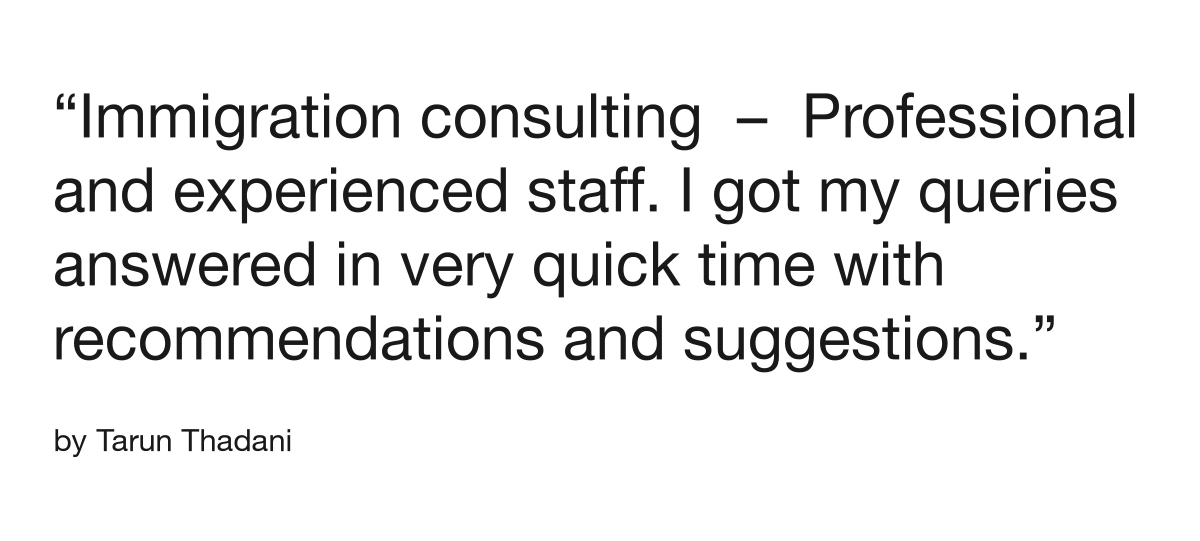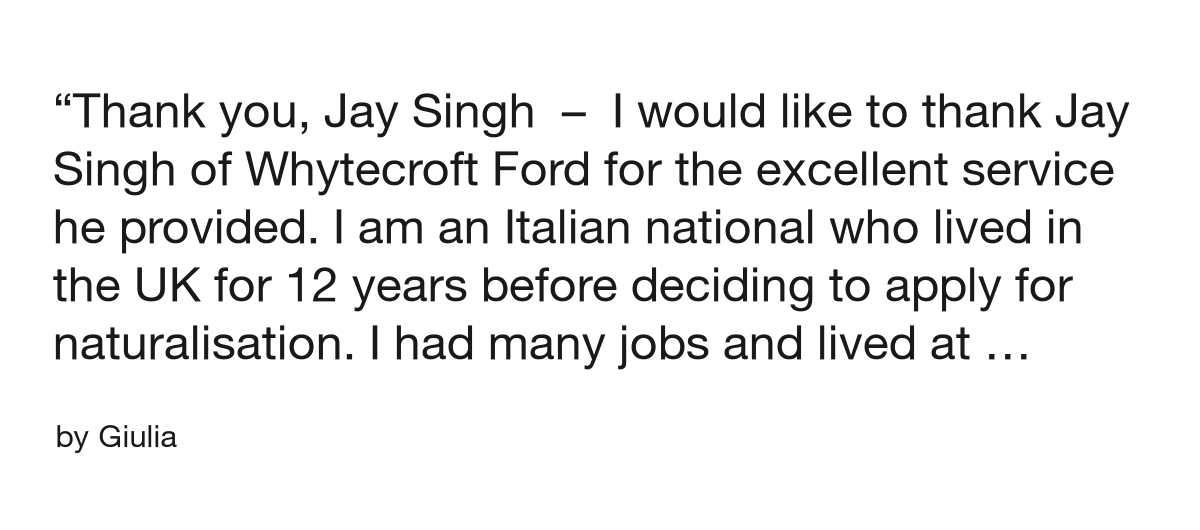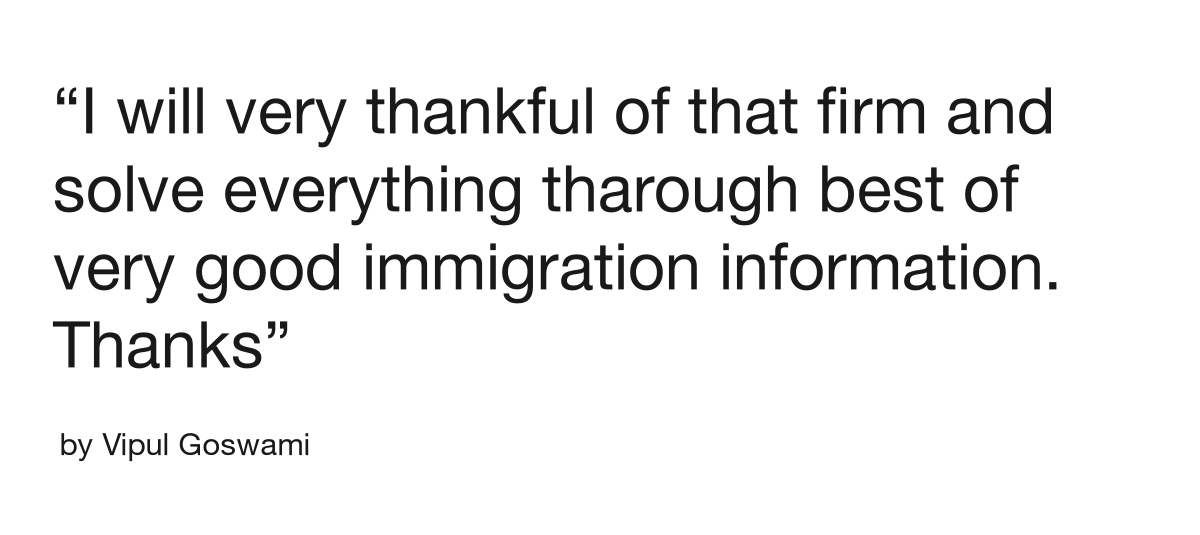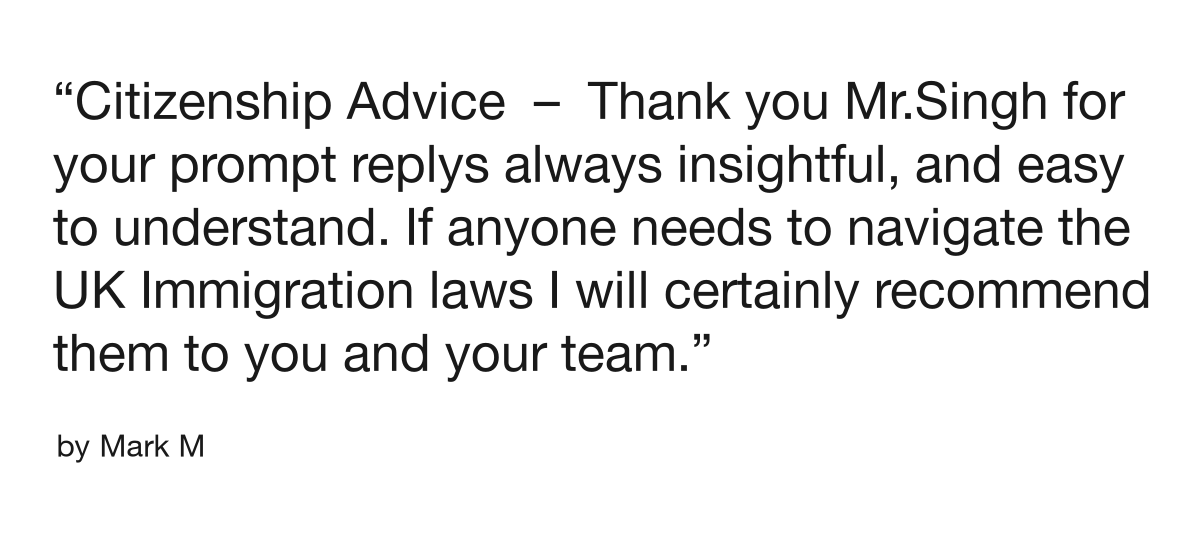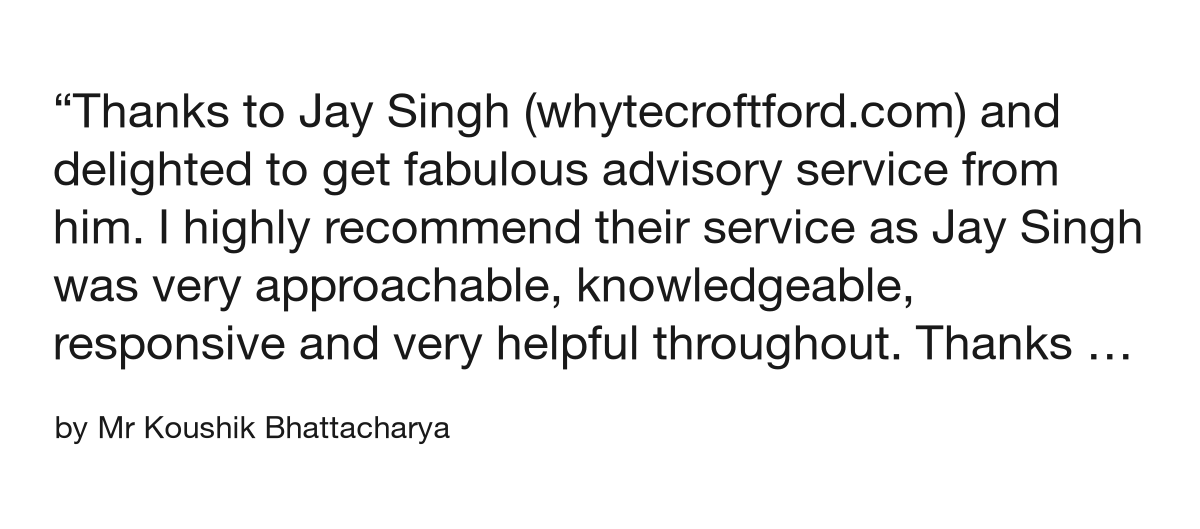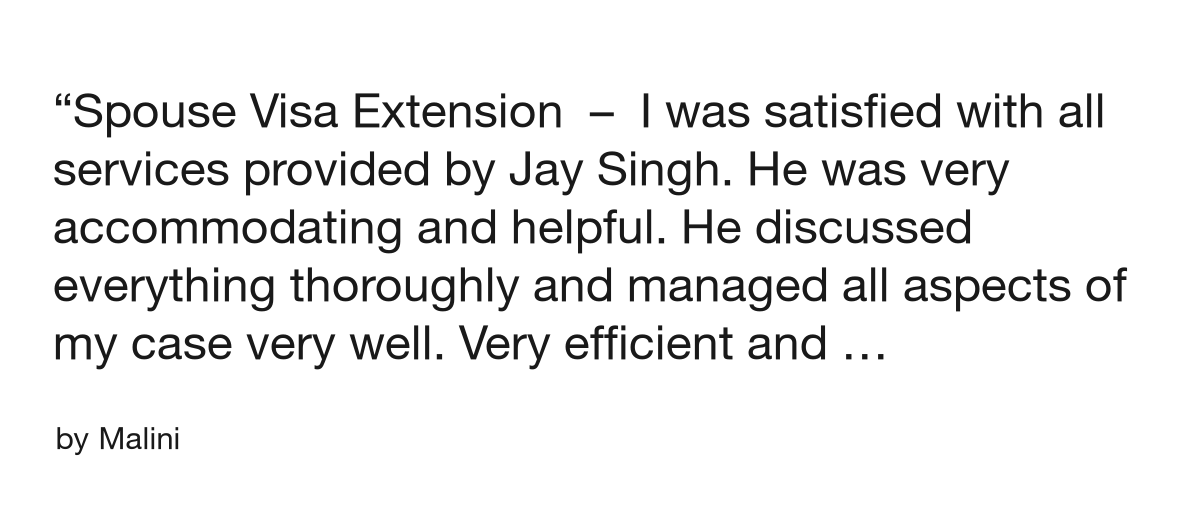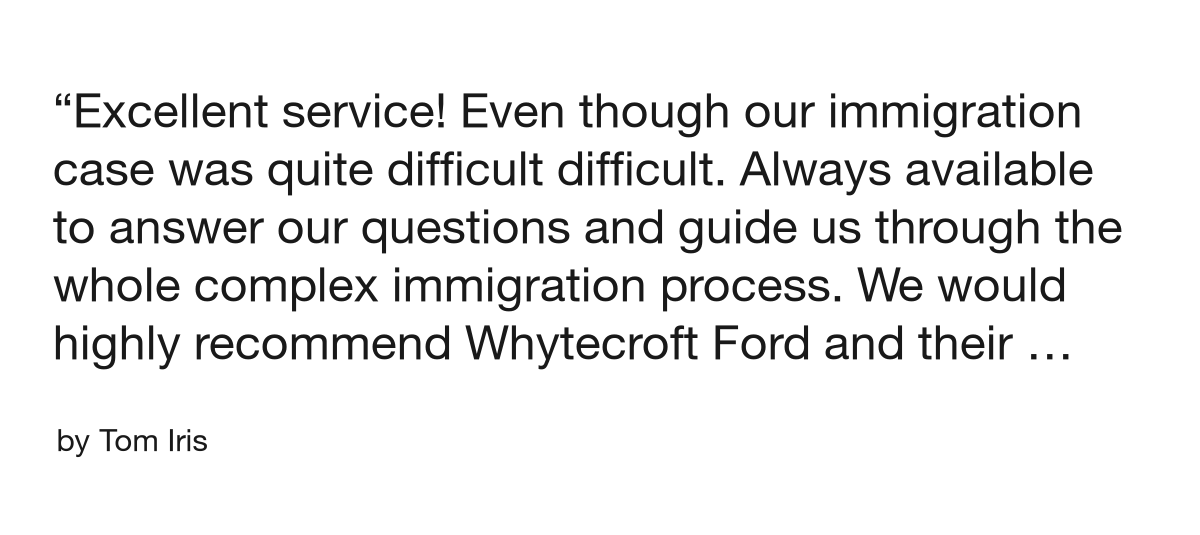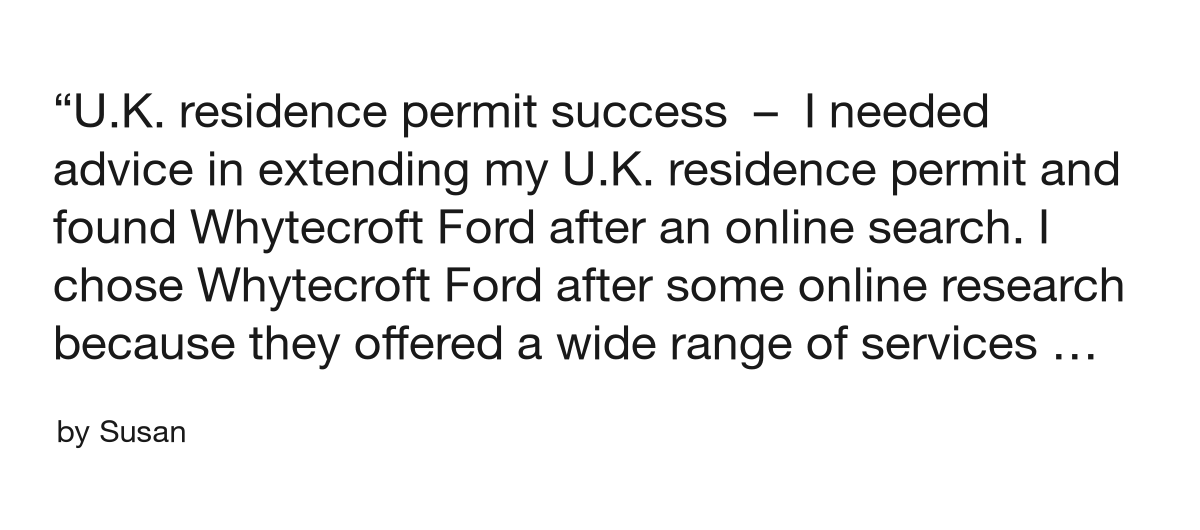 How can we help you
Our experienced team will help you get clear and concise advice for your UK immigration application with a no-obligation assessment. During this assessment, we will:
Assess the possibilities for obtaining, extending or switching into a particular UK immigration category, and
Identify any strengths and/or challenges of your circumstances concerning your new application.
To contact our team:
Contact us
Immigration Services
With years of experience in the field and extensive knowledge of UK law and regulations, you can trust our highly driven team to provide clear, concise and reliable immigration advice and services.